Every detail is considered to create an exceptional piece, that is beautiful and brings you joy.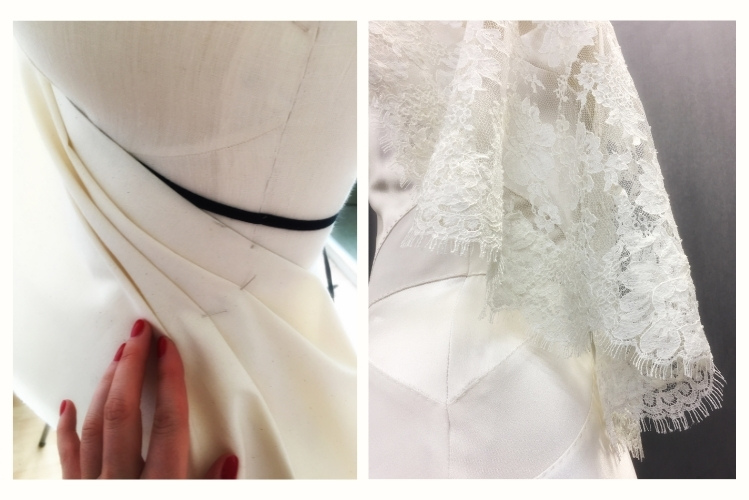 INITIAL REQUEST
Whether you are getting married or attending a special event, Rosemary can create an elegant style especially for you.

Please email the studio to arrange a brief complementary phone call. During the phone call, Rosemary will ask you more about your event and what you are looking for. She will also answer questions you have about the process and cost.
If you would like to proceed with a couture garment, a 25% deposit of the estimated price of the finished garment will be required before the Design Consultation.
DESIGN CONSULTATION
Rosemary will meet with you one-on-one to discuss your needs. She will advise you on the best options for your special event.
You are able to choose from an array of available luxury fabrics, or a special fabric can be sourced for you.
A design can be chosen from the sample collection and sketches, or a bespoke design can be created for you.
All design sketches and information are the property of Rosemary Anne and cannot be used for any other purpose than the creation of your order. A further 25% deposit will be required before the first Toile Fitting.
TOILE FITTING
Once your measurements have been taken, a unique pattern will be created using your specific measurements and desired fit. A toile made in cotton calico or cotton muslin will be made for your first fitting at the studio.
This toile is a test garment that is used to correct the fit and styling of your garment. Typically 2 toile appointments are required, but additional toile appointments may be needed for more complex styles.
All style details are final at this time and cannot be changed. An additional 25% deposit will be due before the fabric fitting.
FABRIC FITTING
Once the final toile has been approved, your garment will be cut and sewn in the actual fabric. The garment will not be completely finished at this time. This is to allow for any necessary changes to the fit of the garment.
All style details must be approved in the Toile Fitting stage. If any additional style requests are made during the Fabric Fitting, an additional charge may be added to the final cost of your order.
Once the Fabric Fitting is complete, your garment will be sewn to completion and a final pick-up will be arranged. At the final pick-up, you will be able to try on the garment again for your final approval. If you take away the garment at this time, it is confirmation that you are happy with the garment as is, and do not require any further changes.
The remaining 25% of your couture garment order must be processed by you and received by Rosemary Anne, before the final pick-up. The final amount is subject to change based off any changes made during the design and make process.